Regular price
Sale price
$20.00 USD
Unit price
per
Sale
Sold out
This all natural serum is a highly concentrated dose of targeted moisture, antioxidants, and gentle alpha-hydroxy action in a nightly skin treatment.
Just a few drops before going to bed, and you will see and feel results of brighter, smoother skin.
Comes in a 1 fl.oz/30mL glass bottle with an easy to use dropper top.
Share
To Use

Apply a few drops to freshly cleansed skin and gently massage in .
Product Info

100% Handmade Small Batch
Environmentally Ethical
Cruelty Free Certified Ingredients
Palm Free
Soy Free
Phthalate Free
Paraben Free
SLS & Detergent Free
Ingredients

Pumpkin Seed Oil, Vitamin E (Tocopherol), Rosehip Oil, Bergamot Essential Oil*, Egyptian Geranium Essential Oil, Pink Grapefruit Essential Oil.

* the bergaptene content which causes photosensitivity has been removed from this natural essential oil harvested in Italy.
View full details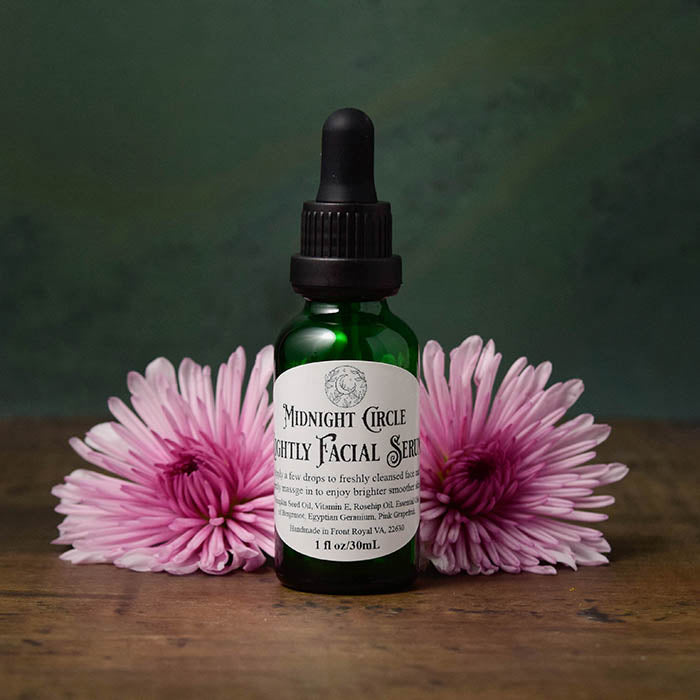 Uniquely Handmade

Sustainably Sourced

Cruelty Free

Vegan

Paraben Free
This serum is simply AMAZING! I've had the proverbial "racoon eyes" for years (probably due to lack of sleep from having kids, especially two little ones under 4). I have horrible bags and darkened skin from so much lack of sleep, and who knows what else! I started using this lotion and was thrilled with how subtle the scent is (the husband has mild allergies to super strong perfumes, but this didn't bother him AT ALL). It has a light floral and citrus scent. After using it for just a couple days, I started seeing smaller bags and my skin started lightening back up. The smaller lines went away and the bigger laugh lines/wrinkles lessened. The more it's used, the more youthful the skin's appearance has become. For anyone with sensitive skin: Don't worry about it!! My skin is SUPER sensitive and it doesn't bother my skin at all. (Midnight Circle has the only soaps that don't end up making my skin itch or dry out - and this includes Dove and Oil of Olay soaps meant for sensitive skin.) In fact, my skin soaks it up and looks better from it. It also feels a lot better.
This is a gorgeous moisturizer. I have the luck of having both aging AND acne-prone skin, but this is an effective moisturizer without causing congestion or breakouts. It soaks into my skin and doesn't leave it greasy at all. HIGHLY recommended!
In addition to helping wrinkles and dry skin, we discovered it also reduces or prevents scarring. Put it on a burn after it started healing and there is almost no visible scar! Awesome.
This is my absolute favorite item in my bathroom! I have very dry, middle aged skin and no moisturizer has ever been enough to quench it and not make me feel greasy. This serum keeps my face moisturized, supple, clear, and happier than it has been in ages!